Foreign Object Debris (FOD) can be any type of object or debris that is left on airport runways. This could include objects such as:
Broken Pieces of Pavement
Loose Parts from other Airplanes
Pens
Loose Change
Identification Badges
Ear Plugs
Paper Clips
Soda Cans
Trash and Garbage
Tools
Pieces/Parts from Baggage
Luggage Tags
Screws
Nuts
Bolts
Articles of Clothing
Rocks
Sand
FOD damage can occur when any type of FOD debris is sucked into the engines on a jet airplane. The engines have many moving parts and components and can increase the trajectory speed of FOD as it exits the engines.
Common FOD damage to engines have resulted in:
Bent/Broken Fan Blades
Engine Failure
Engine Fires
Punctures to Airplanes' Fuselages/Hulls
Wing Damage
In addition, FOD debris can puncture the tires on an airplane. If the object is ejected from the tire, the force can puncture the bottom of the plane's fuselage where fuel tanks are located.
The costs from FOD damage can easily reach into the millions. According to an article published by Boeing, FOD damage costs the aerospace and aviation industries around $4 billion annually!
The costs to purchase airplane engines and parts and components are much more than when the plane was originally manufactured. Based on data provided by Boeing costs for repairing FOD damage to engines have costs like:
$8-10 million for a new MD-11 engine.
$3-4 million for a new MD-80 engine.
$500,000-1.6 million to overhaul an MD-11 engine.
$250,000-1 million to overhaul an MD-80 engine.
$25,000 for one set of MD-11 engine fan blades.
$7,000 for one set of MD-80 engine fan blades.
These costs do not include the indirect costs of FOD damages, such as:
Canceled and delayed flights.
Refunds and flight credits issued to customers.
Costs for hotel rooms and food vouchers issued to customers.
The costs of labor for flight maintenance crews to fix damaged aircraft.
Unhappy customers who may lose faith in the airline.
Possibility of personal liability if injuries occur.
Costs to reposition aircraft to replace FOD damaged airplanes.
Regular removal of FOD can help reduce the risks associated with FOD damages. Aviation and aerospace safety needs to include an effective FOD removal plan using various methods, which can include visual inspections, sensors, and different types of equipment.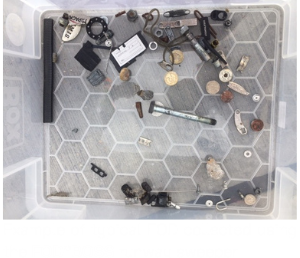 One of the most effective pieces of FOD removal equipment is an airport runway sweeper, like our FOD*BOSS. This piece of equipment is attached to the back of a vehicle and pulled down runways and taxiways. As it moves over the hard surfaces, it collects debris and deposits it into capture zones.
It can pick up sand, rocks, pieces of pavement, screws, nuts, bolts, and all sorts of objects and broken materials. The FOD*BOSS is even used on military aircraft carriers to remove debris from flight decks. Contact us to learn more about the FOD*BOSS and our other runway sweeper solutions.
Sources
1. https://www.boeing.com/commercial/aeromagazine/aero_01/textonly/s01txt.html