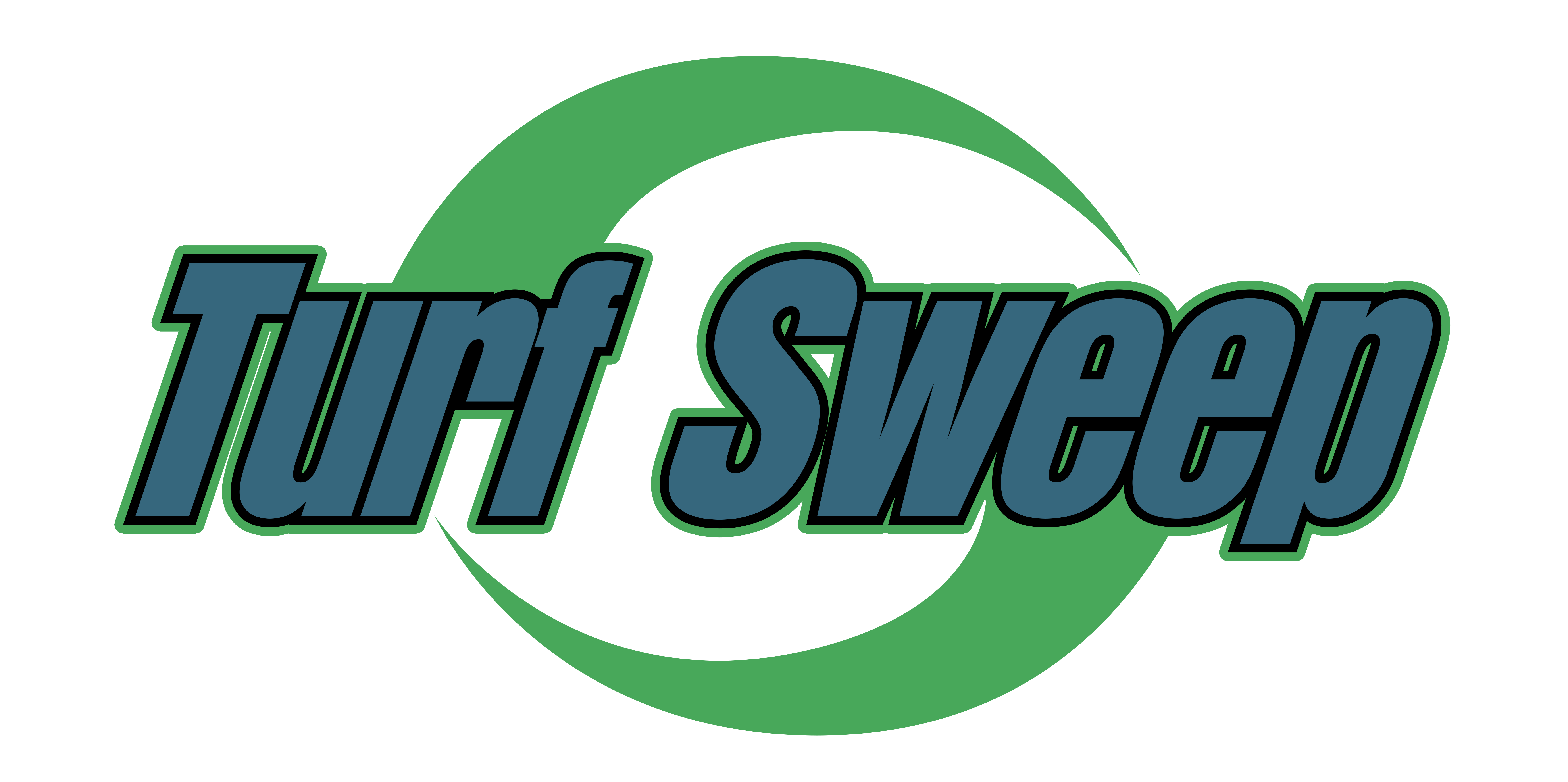 Friction Sweeping Systems
Artificial Grass/Turf Sweeper
Aerosweep's Turf Sweep has transformed the way our company sweeps and maintains artificial turf sports fields. With 25 years experience cleaning synthetic surfaces, I have not seen a better or faster sweeping system that provides such a professional finish. It's a game changer, the results speak for themselves.
The Turf Sweep is fantastic! It picks up debris and manicures the turf better than the expensive equipment that was purchased when the turf was put down. We have used it at our Baseball/Softball complex, as well as our heavily utilized Football/Soccer/Lacrosse field.
Director of Athletics, Waynesburg
The Best Artificial Turf Sweeper For Sports Fields
The Turf Sweep friction sweeper will quickly remove foreign debris from artificial turf, providing players with an ideal
playing surface and safer environment.
Remove stones, small sticks, metal spikes and screws, safety pins, leaves and seed pods, in fact, any loose material.
Suitable for all fields:
Football, Soccer, Hockey, Rugby, Baseball, Softball
Your key to a head-turning sports field is the gentle yet thorough grooming action that the Turf Sweep provides. At Aerosweep, we know how hard and frustrating it is to spend a lot of time and effort sweeping and picking up debris from your sports fields.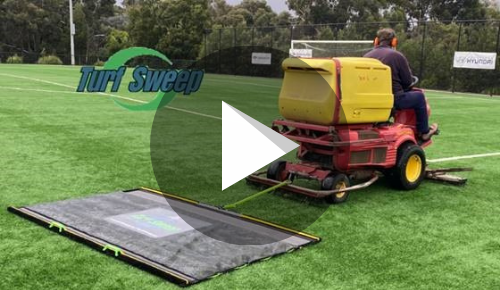 Our patented Turf Sweep is the fastest, most effective turf sweeper available. It can be towed by any small vehicle in wet or dry conditions and is available in sweep widths of 2.4m/8ft., 4.8m/16ft, and other custom sizes. Using the force of friction, it will collect debris, lift the pile, and provide a perfectly groomed finish. The Turf Sweep requires no maintenance and works in silence when used behind an electric vehicle. Our unique design is built tough using polyurethane blades, fine sieve capture zones, and a debris mesh cover over the top. The Turf Sweep works on 2G, 3G, and 4G pitches, allowing rubber crumb or sand infill to filter back into the surface pile.
Why The Turf Sweep Is The Right Choice For Sports Fields
The best sports fields make a solid first impression. It's important that you see maintenance results that reflect your hard work. Your key to a head-turning sports field is the gentle yet thorough grooming action that the Turf Sweep provides. The Turf Sweep is designed to remove hours of hard work from your regular field maintenance routines. This not only saves you time but also money, allowing you to focus on the maintenance tasks that deserve your expertise. We understand that sports field playing surfaces come in many forms and each has its own distinct maintenance needs. This is why we built the Turf Sweep with a fine sieve system that removes playing surface debris while allowing rubber crumb infill or sand to filter back into the turf's surface. Alternatively, we can provide you with non-permeable capture zones to ensure you collect everything on your lawn or sports field.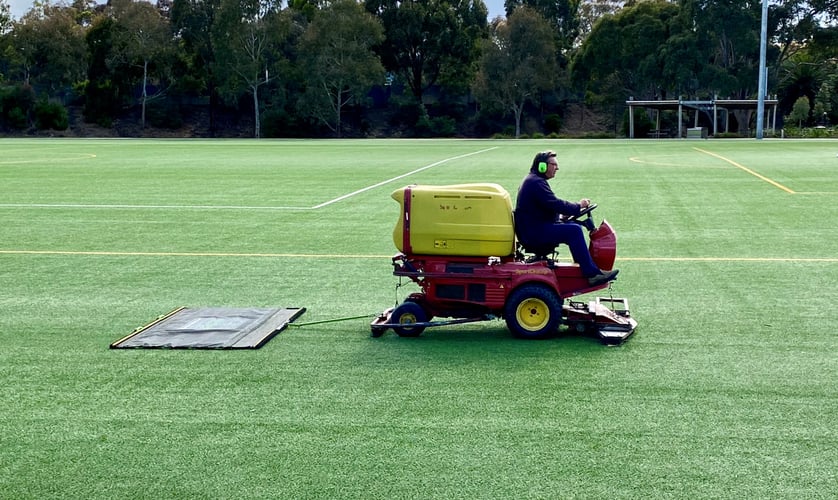 Sports Field Maintenance Equipment Shouldn't Need Maintenance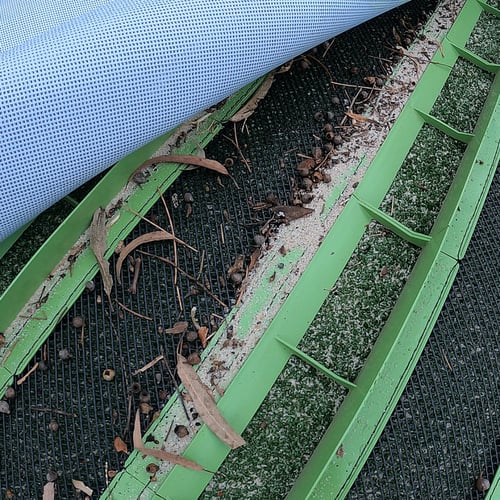 Our patented Turf Sweep design has all the elements of a dependable piece of maintenance equipment. Not only is it maintenance-free, but the Turf Sweep is also manufactured using durable materials to ensure your sweeping needs are met for the long term. Emptying the Turf Sweep is a simple process of shaking the system where you can easily collect all the debris collected afterwards. Then storage is simply a case of rolling it up and putting it on the back of your truck, or a flat surface in the storage shed for next time.
Commit To More Efficient Sports Field Sweeping Today
Filling out our contact form will quickly connect you with a
Turf Sweep
dealer in your region. Clicking the button below will take you to a form where you can fill out your contact details. A dealer will then be in contact within 24 hours to provide you with further information and a formal quote. In the meantime, you will also be sent an email that will provide you with links to further information. Alternatively, watch a series of videos demonstrating how to take full advantage of the sports field sweeping, grooming, and maintenance benefits that only a
Turf Sweep
can provide.
The Moment That Changed Sweeping Forever!
Aerosweep is the pioneer in friction sweeping, having sold tens of thousands of systems for more than 30 years throughout the world. Our friction sweeping technology was first invented by Warwick Tozer from Australia in 1989 when he was sweeping leaves from his tennis court at home. Frustrated when spending more time cleaning the court than playing tennis, the moment that changed everything was when he designed The Aussie
Cleansweep
tennis court sweeper. The Aussie Clean Sweep can groom a clay surface and pick up loose debris at the same time, cleaning the entire court in under 10 minutes! Through extensive field testing over many years, the company also manufactures friction sweepers to protect military and civil aviation, motorsports events, sports fields and all tennis court surfaces, with multiple patents that protect your investment in our technology, right throughout the world.