The Ultimate Guide to Different Sweeper Systems
The FOD*BOSS is the choice of race tracks and military and civilian airfields around the world needing an efficient and reliable way to control foreign object debris. If you're considering this superior system for your operations but aren't sure which sweeper systems we offer are best for your needs, this guide will help.
The Single Equipment Sweeper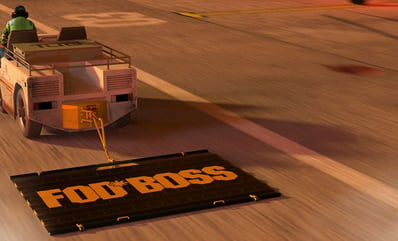 Our single FOD*BOSS system is ideal when various types and sizes of debris must be removed quickly and simultaneously. Requiring just a single operator, this system only takes minutes to deploy with a coupler tow adapter, pintle hook adapter, or safety release tow hitch.
At a size of just 2.4 m/8 ft wide, the single FOD*BOSS system can accomplish FOD removal with an efficiency of nearly 100%. It is compact, portable, and maintenance-free. The single system also offers a flexible speed range of 5 kph to 65 kph/3 to 40 mph and can be connected to any towing vehicle.
The Duplex Sweeper
The duplex FOD*BOSS sweeper offers a larger width of 4.8 m/16 ft, as well as a high sweeping speed of up to 60 kph/40 mph. This speed is ideal for caution periods at race tracks, where bolts, nuts, pavement pieces, and similar debris need to be able to be collected within a few laps.
Because the duplex sweeper is able to collect both metallic and non-metallic objects, it's ideal for use by civilian airfields, where zippers, corner pieces, and other components can loosen during transport and end up on runways. The duplex option may also be ideal for smaller airfields, where debris must be removed prior to deployment of military aircraft.
The Triplex Trailer System
The 7.3 m/24 ft wide version of our sweeper system can travel at up to speeds of 65 kph/40 mph. Because of these speeds, this version of our sweeper includes the ability to tether all pins. The unit's wheels are also speed rated.
When the outrigger arms are folded, our triplex trailer becomes a practical and efficient way to store and transport up to three sweeper systems. Those operations requiring a way to clear their surfaces of debris at unrivaled speeds will likely be the best candidates for this larger and faster version of the FOD sweeper.
Parts, Accessories, and Adapters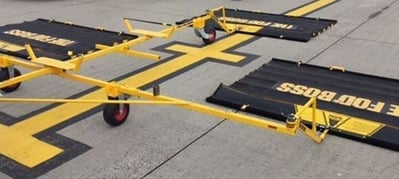 Each version of the FOD*BOSS includes a range of adapters, accessories, and parts for easy deployment with any vehicle. Our single, duplex, and triplex sweepers all include hitches, duplex, or triplex trailers and carry straps.
As well, our sweepers are available in Patriot and Ultimate Versions for even higher-efficiency collection of debris. We also offer a downloadable parts catalog that includes replacement hitch lifters, tow balls, wheels, and much more.
Get the Original FOD*BOSS Here
There are many imitations, but only one is the true FOD*BOSS. Don't compromise on safety or inadequate FOD removal. Choose the sweeper that offers the patented Debris Retention Blade. Get more information at +61 3 9894 2100 on the benefits of owning our superior sweeper system.