Friction Sweeping Systems
Artificial Grass Golf Green Sweeper
The Best Artificial Turf Sweeper For Golf Greens
The Green Sweep is the solution for rapid debris removal from private and public golf greens that use either real or artificial grass. Ideal for school grounds, smaller sports fields, playground areas and putting greens.
Why The Green Sweep Is The Right Choice For Artificial Turf Golf Greens
To get the best from your investment in the perfect putting surface, you also need to ensure that surface remains debris free for maximum enjoyment. The Green Sweep has been specially designed to quickly and easily sweep your putting green free of leaves, nuts and other debris.
The Green Sweep can be towed by hand in wet or dry conditions and is available in sweep widths of 1.2m/4ft. or 2.4m/8ft, or custom sizes. Using the force of friction, the mat will agitate and collect leaf matter, seed pods, stones, in fact any small loose debris, and evenly filter sand or rubber crumb back into the surface, providing a perfectly groomed finish.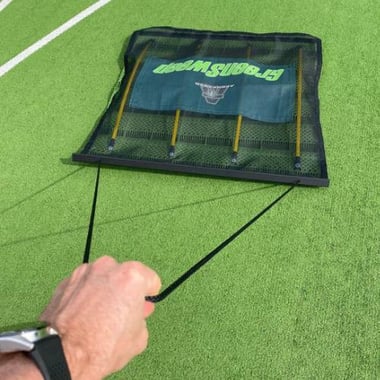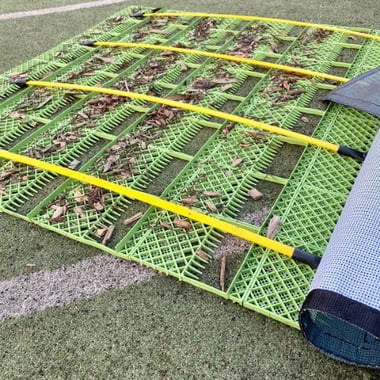 The Leaf Trap mesh cover keeps debris from falling off especially in windy conditions. The Green Sweep requires no maintenance and works in silence and will provide many years of service. Clean up private areas any time without annoying neighbours with a noisy blower! To empty simply lift the leading bar and shake.
The Moment That Changed Sweeping Forever!
Aerosweep is the pioneer in friction sweeping, having sold tens of thousands of systems for more than 30 years throughout the world. Our friction sweeping technology was first invented by Warwick Tozer from Australia in 1989 when he was sweeping leaves from his tennis court at home. Frustrated when spending more time cleaning the court than playing tennis, the moment that changed everything was when he designed The Aussie
Cleansweep
tennis court sweeper. The Aussie Clean Sweep can groom all types of playing surfaces including synthetic turf, real lawn, hard, clay surfaces. It will pick up leaves, twigs, nuts and any loose debris at the same time, cleaning the entire court in under 10 minutes! Through extensive field testing over many years, the company also manufactures friction sweepers to protect military and civil aviation, motorsports events, sports fields and all tennis court surfaces, with multiple patents that protect your investment in our technology, right throughout the world.