Take a deeper look at this FOD*BOSS exclusive feature and understand why they are a critical part of FOD sweeping capabilities.
Introduction
When we first developed our FOD*BOSS Ultimate in 1994, it helped change aviation tarmac cleaning forever and has been protecting every major Air Force, Airport and Airline ever since. An integral part of the FOD*BOSS and its success as the world's safest and most-effective airfield sweeper are four exclusive critical safety design features. One of these is our FODStop Barrier System, and we think it's kind of special.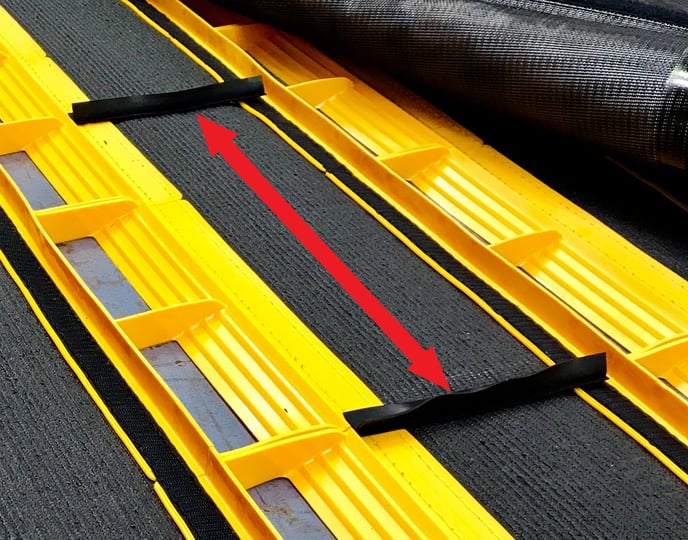 What is a FODStop Barrier System and what does it have to do with an Airfield FOD sweeping system? If you take a look at the debris capture zones of the FOD*BOSS Ultimate, you will notice barriers that divide up the debris retention zone into sections. These are designed to prevent all FOD being collected by the FOD*BOSS from moving around inside the sweeper and potentially escaping back onto the tarmac and into the pathway of a taxiing airplane.
What Are FODStop Barriers?
This patented and exclusive critical safety design feature is only available on a FOD*BOSS. The importance of FODStop Barriers to the successful sweeping and removing of FOD from your tarmac areas, only really becomes apparent when you consider what could (and does) happen with all the FOD you have collected that is now sitting inside your friction sweeper. As you continue to sweep the tarmac you will drive around obstacles, effect cornering manoeuvres or even sweep in an arc. These all place a centrifugal force on that FOD causing it to move from one side of the sweeper to the other.
If the force is great enough (remember a good sweeper can travel up to 65 kph or 40 mph and remain effective) then that FOD might even escape from the sweeper and remain a significant danger to operating aircraft. This has been known to occur at low speeds.
Why Are FODStop Barriers So Important To Successful Sweeping?
The FODStop Barriers found in every FOD*BOSS Ultimate act like little retention barriers that prevent this transverse movement of FOD, ensuring it will not escape from the side of the sweeper during these cornering manoeuvres. Again, it is a simple thing that can have a big effect on the quality of your FOD sweeping operations.
The Impact Of Poorly Designed Debris Retention Zones
At the bottom of this page is a picture of what we would describe as a poorly designed debris retention zone. This is the flat area above the debris intake scoops where all the FOD you have just picked up from your tarmac sits inside the friction sweeper. You will notice this area is wide open and debris is free to migrate from one section to another depending on the transverse forces that may be exerting on it. These forces are typical during cornering or when sweeping in an arc, as mentioned earlier. The greater your sweeping speed, the greater these forces are.
I am sure the impact of poorly designed debris retention zones is now becoming obvious. During a cornering manoeuvre (maybe around parked aircraft or some GSE), the FOD that was picked up is now free to move around inside the sweeper and ultimately make its way back onto the tarmac and into the pathway of a taxiing jet fighter. The concerning aspect about this is it may all be occurring without the operator's knowledge Who would have thought such a simple idea would potentially have significant ramifications for your FOD sweeping process?
This is why we build the FODStop Barrier System into every FOD*BOSS Ultimate. They allow FOD to be captured and retained within your friction sweeper and at all operating speeds and sweeping directions.

Not only do they help achieve the very outcome you are looking for (but also help produce the cleanest airfield you may have ever had) but allow you and your team to sweep with confidence knowing whatever it captures, it will retain.
The impact of a poorly designed debris intake scoop can only become amplified when you consider a Duplex or even a Triplex configuration. The main benefit of using either of these two configurations is that you can amplify your sweeping successes and sweep a much larger area in a shorter amount of time. The Duplex can sweep an area of 507,520 m2 in just an hour compared to the single's 253,760 m2, while the Triplex sweeps 759,200 m2 in the same timeframe.
Use our sweep time calculator to compare the 3 configurations of the FOD*BOSS using your own runways, taxiways, and apron areas.
However, without our patented FODStop Barrier System or a debris retention zone which has been poorly designed, you may be leaving debris behind every time you corner or avoid a fixed obstacle in your sweeping path.
As mentioned earlier, our FODStop Barrier System is built into every FOD*BOSS Ultimate, thus ensuring your successful FOD sweeping operations.
This exclusive technology is only available in a FOD*BOSS and is what helps to make a FOD*BOSS so special. The FODStop Barrier System is just one of four exclusive critical safety design features included in every FOD*BOSS Ultimate.
You can review the others here.
Thank you for your interest in our FOD*BOSS® Airfield Sweeping System.
Our FOD*BOSS friction sweeper changed aviation tarmac cleaning forever in 1994 and has been protecting every major Air Force, Airport and Airline ever since.
The FOD*BOSS Ultimate's many benefits make it the safest, most effective airfield sweeper, guaranteed.
The FOD*BOSS is fully equipped with our exclusive and unique critical safety features that are the secret behind its unbeatable performance and essential to your successful FOD removal operations.
These are unavailable with any other sweeper.
Don't take our word for it, see what our clients are saying at our website confirming our system is truly exceptional.
Aerosweep believes it is only by ensuring your friction sweeper contains the technology covered in the series "Getting To Know Your FOD*BOSS", can you rest assured your sweeping operations are using the safest and most effective airfield sweeper, guaranteed! Now that's kind of special, don't you think?